So far in this series of information on breaks from the hCG diet and length of time to do the diet we've covered:
I consider this post though, to be the most important one- why sticking to the original outline for round length and breaks (or even longer breaks!) is a good idea.
When to Mozy (Rather Quickly Still) Through the hCG Diet
I'm serious you guys- this can be a total tortoise and hare story here.  If you look at my whole hCG journey, it will seem like I took FOREVER compared to what is generally believed to be possible as far as how fast one can be lean and mean.  But I did take my time when it comes to the breaks I took and now it's been a whole year since I finished hCG, and I've actually been maintaining a healthy weight range for my height for over 2 years now!
It's very important to me to not be negative about the failings that are sometimes experienced on this diet- because I've had those too, and I'm very sensitive to not wanting anyone to feel bad about themselves.  But I just want to make it clear for those of you who are new to this, sometimes rushing things has lead to a vicious cycle of weight gain and weight loss.  What we might want in our heart is often less realistic than if we used our heads and take it a little slower.
It's not necessarily that you have to be perfect in every way to do a fast-tracked weight loss journey- it's just I'm nervous to mention the positive aspects of doing this because I know it's all too easy for us women to latch on to any excuse to do something that involves faster weightloss, when often it may not be in our best interests.
Nevertheless, there are certainly times as you have seen in these examples, that it can be totally warranted and work out well.  The first two ladies mentioned in my previous article in this series were quite overweight- both losing over 100lbs each, which leads to one of the reasons you may choose to consider doing the diet faster- if you are very overweight and are at risk for many health issues due to your weight, I can see why this might be something to consider.  The 3rd woman was not as overweight but had been eating and nourishing her body in a very healthy positive way for quite some time prior to starting hCG.
In the end, what I am asking of us ladies is to be honest with ourselves.  If you have any doubts that you are not a prime candidate for fast tracking your hCG journey, PLEASE do it the normal way- because the normal way is actually still QUITE FAST people- keep in mind that during your breaks from hCG, whether they be weeks or months, you are not living the "diet life"- you get to enjoy normal living- well, perhaps a healthier version of your previous normal.
I feel I personally benefited the most by taking long breaks between my rounds of hCG.  In fact, I took far longer breaks than even Dr. Simeons suggested.  My shortest break was 8 weeks, and two of my other breaks between rounds were 3 months and 4 months long actually.  And I'm not at all saying I'm better because I did this.  There were some reasons that for me this was a really good choice, which we'll discuss next.  As I explained earlier, there have been some very mentally motivated and strong people who have gotten through their entire hCG journey with few breaks.  You will have decide what category you most likely fit in.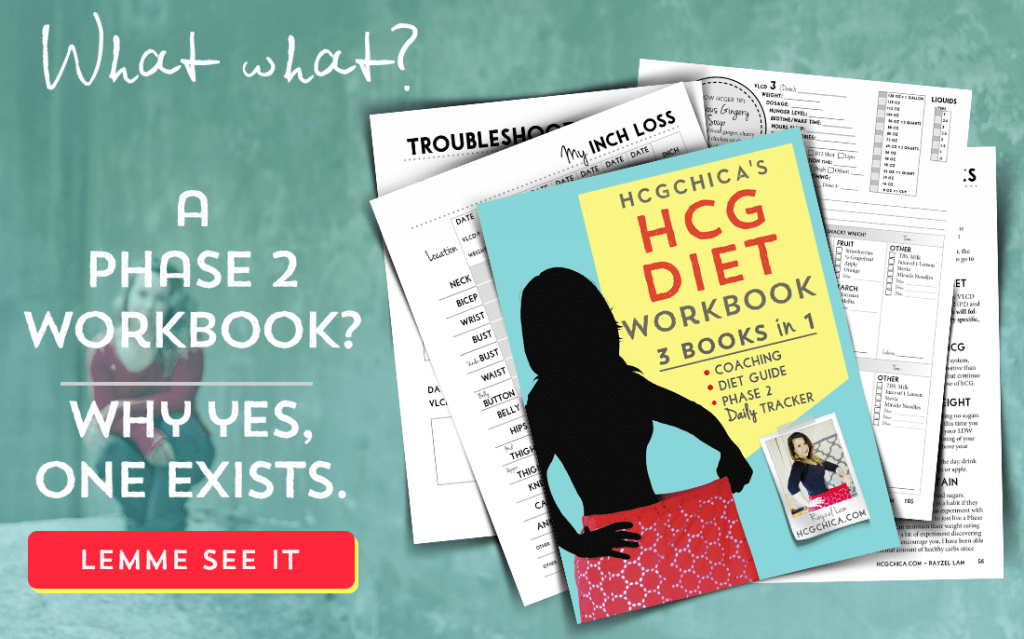 Reasons longer breaks from hCG can be good:
Your body has time to rest and recover leading to better weightloss (and health!) later.

You are forced to develop good habits and learn to make corrections when the scale goes up for the wrong reason.Y

You can incorporate some exercise to maintain a good balance of muscle on your body, which I feel leads to easier weight maintenance later.

Too many events coming up to make a successful round of hCG truly viable, making it wise to wait awhile.
1.  Your body has time to rest and recover.
I think we sometimes underestimate the importance of this.  As much of a supporter of the hCG Diet that I am, I still do feel that it takes a toll on your body.  Heck, so does Crossfit.  As good as crossfit is for me, if I did it 7 days a week, my body would actually start breaking down because it didn't have the time it needed to recover.  This is just good sense.
A fellow hCGer who took just a 2 week break between two short 23 day rounds told me this:  "I was extremely exhausted by the end and wasn't losing much, but lost 40lbs total. Not sure I'd do that again because of the fatigue."
I really appreciated her sharing her thoughts because I think this happens pretty frequently- the protocol IS taxing.  Losing weight rapidly makes your body put out more adrenal hormones than usual, and this can lead to adrenal fatigue if you don't stop in time for them to recover before you starting getting seriously symptomatic.
Here are some articles for those of you want to read up further on the adrenals and cortisol:
When you take an appropriate break from hCG, or don't do a round for TOO long, your body can maintain it's homeostasis better- a weird word that basically just means your body can maintain it's internal balance and not have different organs or systems in your body get overstressed or out of balance.
2.  Developing the Tools Necessary to Maintain Your Weight Loss Long Term
The following is something that has run through my own mind before (thankfully I have a very smart hubby whom I actually listened to- thanks hunny!), and I have observed it quite a few times in others – this mentality:
"Eh, I can just go ahead and eat whatever I want because I'm starting a new round in a few weeks anyway."
How many of you have thought this at least once?  C'mon, admit that you've thought this!  I think we can all look at this on the page and realize, woa, that is not a healthy way to look at it.  But the truth of the matter is, it's very easy to think this way inside ourselves.  Food is just one of those things that can really be a vice in a sense for some of us, and that can cause us to make concessions for ourselves for why it's okay to fall back into unhealthy eating patterns.  Especially because food is often used as a way to cope when things in life aren't going well – which is um, pretty often for most of us right?
When you take a longer break from hCG – my longest break I think was about 6 months – you don't have this 'out.'  The next round is simply too far away and using this excuse would mean my weight will be back to where I started or worse by the time the next round rolls around.  I'm am forced instead to find another way to cope with an error I made, or to make a different healthier choice.
Taking a fairly long break between hCG rounds helps you to develop the right tools that you need to maintain long term.
To me it's kind of like being an apprentice.  Who is better equipped to take on a woodworking job –  someone who has apprenticed as a woodworker for a couple years, or someone who only read a book about it?
When you take breaks from hCG and find out what works well for you, what doesn't work well for you, it's kind of like your being an apprentice for what regular healthy living is all about- not just physically, but mentally and emotionally too.
As an example, here are a few questions to think about:
How will you handle it when you give in and eating a bunch of things you didn't mean to for a few days and you feel you let yourself down?  How will you address this without giving up or sabotaging yourself further?
How will you handle it when your weight goes up a few pounds near your menstrual cycle?  How will you react?
How do you handle the eating of sugar in Phase 4?  Can you handle it in a balanced way, eating only a reasonable amount, then stopping, or do you find yourself easily bingeing on it?  If the latter, what can be done to prevent this (for me the answer was just to avoid sugar completely always).
The answers to these types of questions were things that I had to learn along the way- I had to learn that for me personally, I can't handle eating foods with sugar in them in a balanced way.  Others might be capable of it, but I learned I am not, and gradually realized what I had to do to keep it in control.
I had to learn how to change the way I thought about myself when I "failed" myself and got out of control with my eating.  In the past such failures would cause me to judge myself so harshly that I would give up and only do more damage.  I learned how to change this and what I could actually do to fix errors.  I learned that I really do have control, and that mistakes do not have to be permanent.  But it took TIME and PRACTICE to learn this.  My months between hCG rounds were the perfect training ground for this.
Waiting until you are completely done with hCG to start any of this process in my mind is much more frightening.  It's like the difference between the confidence level of the apprentice woodworker signing on for his first paying job, vs. the dude who only read a book.  Which one is going to feel more confident and probably do better?
I never realized before just how powerful our mind is in affecting our actions.  And I didn't realize just how possible it is to truly change the way we think about ourselves.  But it has been literally the key for me to maintain my weight loss long term.  If I hadn't done this "apprentice" work, I wouldn't have been capable of handling this- the answers to the above questions I asked would have been different, and my weight loss would not have been maintained as a result – leading to many extra rounds of hCG to get to where I'm at and a lot more damage to my body, that is difficult to recover.
3.  An Opportunity to Take Up an Exercise Program
Many of you may start hCG coming from a place of inactivity.  While I was very active in previous years, the state I had gotten to by the time I started the hCG protocol included no exercise for quite some time.  I totally think hCG preserves lean muscle tissue better than other diets.  I think it causes better abnormal fat loss than other diets.  But you WILL still lose SOME muscle on hCG- at least women will.
If you think about it with the idea of keeping things in balance, it makes more sense to make this a journey where you alternate losing fat with working out to build strong bones and muscle.  This keeps the balance your body needs to maintain the weight loss long term.  Using your muscles makes your body think you need muscle because they're being used, so your body will be more likely to keep the muscle it has, and build more.
Contrast that with simply dieting over and over and over….and over and over.  You can see how each time you do this, and don't spend a little effort and time keep in your level of muscle healthy, that over time, you can end up with a body that, while perhaps thinner, doesn't have as much muscle as perhaps it should, because you gave your body reason to believe you don't really have any use for muscle.
Obviously this is over-simplified and I'm not a nutrition or fitness expert, but this seems to made sense to me and I feel like my own hCG results bears this out.
4.  Less Chance of Cheating If You Wait Till the Social Whirlwind Dies Down
There's an entire article/video just on this subject here.  Timing out your rounds of hCG so that they are between social events (as much as possible) can REALLY help.  Even if it means waiting all summer to do your next round.  There are lots of aborted rounds of hCG, or rounds punctuated with cheat after cheat to get to the end.  Obviously this isn't ideal.  Sometimes circumstances are beyond our control and many may never have a time that's completely cleared to do the hCG diet and nothing else, but it's just something to keep in mind when deciding when to start a round.
I hope this helps you guys- I know the feeling to want the weight gone NOW.  But approaching this in a wise way taking into account our personal issues and circumstances can go a long way to making us successful long term, which is what this is all about right?
Want Motivation?
37,000+ hCGers Join
hcgChica's
Email Tribe
how-to's | interviews | pep talks
Yup, I want this!
Related posts: