Podcast: Play in new window | Download
Subscribe: Apple Podcasts | RSS
How Long Do I (Can I) Do the hCG Diet?
In a nut shell, anytime between 3-6 weeks long.
Original Length of Time Per Dr. Simeons
After going over his manuscript again, his direction was basically:
Do the diet a minimum of 3 weeks
Don't go beyond 40 actual injections (different from # of days on the diet- we'll discuss more in a bit)
What If You Have More Weight To Lose?
Which is usually the case right? If you have more weight to lose than you can lose in one round of hCG, you do multiple rounds of the diet with breaks between- the length of hCG Diet breaks are discussed here, and this is why breaks from hCG are a good idea.
This whole process is done in short batches, whereafter you take a break and stabilize (called Phase 3 and Phase 4) – these breaks are IMPORTANT you guys, for multiple reasons, discussed in the articles I just linked to.
Back to Length of hCG Rounds
Dr. Simeons stated at least 23 injections, and no more than 40 injections. When he said "23 injections" etc that included all injections, including the ones taken on the loading days, so technically speaking it would be 21 injections while on the 500 calorie diet. Additionally, on the longer 40ish day rounds, many people skip 1 injection a week based off the original protocol, so the number of days you'd be on the 500 calorie diet overall would be a bit longer.
Example:
23 injections – 2 days of loading with injections = 21 days of 500 calorie diet with injections + 2 days of 500 calorie diet without hCG at the end = 23 days of 500 calorie diet total.
Another example:
40 injections – 2 days of loading with injections = 38 days of 500 calorie diet with injections + 6 days of 500 calorie diet without an injection (the once a week no shot day) = 44 days of 500 calorie diet with injections + 2 days of 500 calories without hCG (at end) = 46 days of 500 calorie diet total.
Additionally, regarding a woman's menstruation he says, "During menstruation, no injections are given, but the diet is continued and causes no hardship; yet as soon as the menstruation is over, the patients become extremely hungry unless the injections are resumed at once." This means that a woman might possibly end up being on vlcd even longer than 45-46 days to get to her 40th injection if you take this into account.
But honestly, I don't believe you have to get this anal about it – if you look on your calendar you mainly want to plan out, what days you will load, and how many days you will be on the 500 calorie diet.
So within the boundaries of what he said…..
The basic idea is to do the hCG diet for at least 3 weeks. But you are not required to do a full 40 injections once you pass the 3 week mark. So if you choose to stop on day 38, so be it. If you stop on day 34, so be it.
Does this work in real life?
I've done differing numbers of days on hCG- 38 days, 43 days, 23 days, etc. I have never attempted to do less than 3 weeks, the original shorter protocol that Dr. Simeons outlined, so I can't tell you how doing the diet for less than 3 weeks would fare for you- Dr. Simeons felt that it would not work well and he may be totally right about that. We won't know for sure unless a lot of people start experimenting with that (hint hint – if you decide to do that, please email me and let me know the results!)
Everyone's brains and minds work differently, but I even found it worked well to not commit myself to a certain length of time beyond 3 weeks. My final round I planned on it being a short 3 weeker, but I was feeling so good that at the end of the three weeks, I decided to add on another week, and I just kept doing that each week that I felt like I could handle a few more days until I ended up completing a full 6 week round. This worked well for me. For others, committing themselves to a 6 week period beforehand may be better if they feel they will be too likely to just kind of quit otherwise.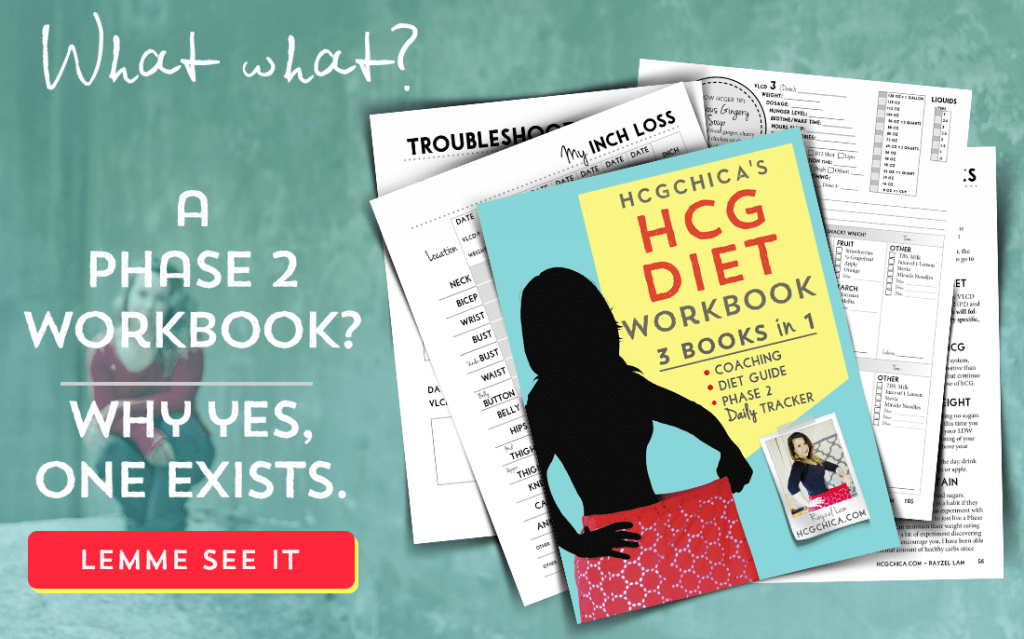 Biggest thing to keep in mind when choosing the length of time to do a round of hCG:
Choose a time in your life that will have the least stress, the least family/social functions- when you can lay the most low. I can't say this enough. You will thank me by day 5 for this advice.
Why At least 3 weeks?
In plain people speak, Dr. Simeons noticed in his studies that people regained the weight they lost if they didn't do the diet at least 3 weeks- remember, this protocol is actually considered a hormone healing protocol if used properly and the aim is not only to lose weight, but to actually change and reset how your hypothalamus/metabolism operates in your body – Dr. S felt that this seemed to take at least 3 weeks.
In Dr. Simeon's Words:
Under the topic, "the Duration of Treatment," starting at page 51 in his manuscript is the following:
"Patients who need to lose 15 pounds (7 kg) or less require 26 days of treatments with 23 daily injections." p.51, par. 2
"We never give a treatment lasting less than 26 days, even in patients needing to lose only 5 pounds. It seems that even in the mildest cases of obesity the diencephalon requires about three weeks rest from the maximal exertion to which it has been previously subjected in order to regain fully its normal fat banking capacity. Clinically this expresses itself in the fact that when in these mild cases treatment is stopped as soon as the weight is normal, which may be achieved in a week, it is much more easily regained than after a full course of 23 injections." – p.51, par. 3
If you reach your goal weight before the 3 weeks is up, he instructed patients to increase their calories to 800-1000 or so and maintain the current loss till the end of the 3 weeks, THEN move on the no starches no sugars phase.
Rounds Less Than 3 Weeks
If you decide to try a round for less than 3 weeks, it would have to be an experiment, and I'd love to hear from you if you do! I'm always interested in hearing how experiments turn out – that's how we learn new things right?
Please check out
Barb's experience with a 2 week round
on the hCG Diet." To spoil it just a little, she found the stabilization process did not go nearly the same as when as when she did the full minimum 3 weeks.
Why did Dr. Simeons say not to go beyond 40 injections?
He described what he called immunity to hCG setting in. For some odd reason, neither I, nor other hCG coaches like Robin Woodall, have ever seen hCG immunity actually happen.
Dr. S characterized immunity as suddenly becoming ravenously hungry on hCG, when you were feeling fine before. Most hunger on hCG is a correctable dose issue, and many people do rounds longer than 40 days, or don't skip a shot once a week as he said doing so could delay the immunity, and still we haven't seen this sudden raging hunger come on at the end of a round.
He did mention it didn't happen to everyone, so it looks like it was a precautionary measure across the board since he couldn't know in advance who would become immune and who wouldn't, but I'm just saying, today anyways, for some reason, it doesn't seem to really happen.
Here is what he said in his manuscript on this subject under the subheading "Immunity to hCG":
"The reason for limiting a course to 40 injections is that by then some patients may begin to show signs of HCG immunity."
"In those comparatively rare cases in which signs of immunity develop before the full course of 40 injections has been completed- say at the 35th injection- treatment must be stopped at once."
"In those that take 40 injections the onset of immunity can be delayed if they are given only six injections a week, leaving out Sundays or any other day they choose, provided that it is always the same day.
My Own Little Input on the Immunity Idea
To be honest, there have been a lot of people now to do hCG longer than 40 injections worth and I don't know that I've seen any true symptoms of immunity going on – so I'm not sure how real that is. I still think there are other very valid reasons for limiting the length of time you are on hCG at any given time though. I asked Robin Woodall, the author of weight loss apocalypse, who has coached thousands of people through the hCG protocol personally, and she agreed she hasn't seen immunity actually happen.
So You're Saying I Can Do More Than 40 Injections Then? Yippee!!!
Not so fast partner!
Since Simeon's time, people have experimented, and occasionally a person does okay staying on the diet beyond 6 weeks, but there are some major cautions here, so please see my 2 articles related to this:
Why Taking Your hCG At a Normal/Slower Pace May Be Wise
When Can You Start Your Next Round of hCG?
Essentially it's not that you CAN'T or you'll die- some do extend their rounds of hCG a bit. The main thing though is that I feel you want to be balanced in how long you do this diet at a time because if you push the envelope, I feel adrenal fatigue could develop. Adrenals are often doing more during any diet, and cortisol can be raised- if this goes on too long, it can weaken your adrenals which produces more than one problem – it causes horrible fatigue – the kind that makes you wonder how you can continue working and caring for the family; it can really take a long time to heal, and it can make maintaining weight loss not work well.
And I know some of us may kind of read over this nonchalantly and kind of go on our merry way of trying to do 60 days on the diet anyway- some of us have to learn the hard way right? Totally me- been there, done that, and probably STILL doing that, but PLEASE you guys, I'm telling you, this is not something to take lightly. It's SO much easier to stabilize weight, to maintain weight, and to feel happy and well when you are MAINTAINING your health rather than trying to get it back. Getting it back can be a LONG and painful road.
Sometimes we may see a person doing a really long round, or taking really short breaks, and they are fine at the moment. and so we might think to ourselves, "Hey, it's working for them! I might as well try it". What we don't know though is how they'll be doing and feeling in 2 or 3 more months. So be careful with taking the protocol to extremes. It can always work for awhile – but there can be a residue of chronic health issues that can develop from it.
Granted, if you're needing the hCG protocol it's likely that your health isn't the best to begin with, but adrenal fatigue and thyroid issues are no joke- it's not so easily fixed once it's screwed up and you can keep these systems functioning well if you try to stick within the confines of the original time limits for the diet.
Buying hCG Online: # of Days for the Various "hCG Kits"
One thing that can be confusing is that each online hCG company has their own "kits" with the # of vials, and they vary from each other by several days.
For the shorter 3-4-weeks-ish round kits pick 1 5000iu vials and for the longer 6-weeks-ish round kits 2 5000iu vials
How is that? Is that misleading? No, it isn't actually. Let me explain.
The thing is, the dosage of hCG that's best for you will vary from person to person – each clinic tends to prescribe one set dose of hCG to their patients, but I have found that the dose you feel the least hunger on is unique, and can even change during a round.
So the amount of hCG you take each day is what affects how long your vial of hCG lasts.
If you take a high 200iu dose of hCG (which is uncommon for what actually feels best for hunger) one 5000iu vial will last you 25 days worth of injections (5000/200). If you take a dose of 125iu which works for many, your vial would actually last you 40 days (5000/125). HOWEVER, typically the potency of hCG drops off enough that by the 3rd or 4th week you want to no longer use that vial and either finish your round, or mix a fresh batch of hCG from a new vial.
So essentially what I'm saying, is any kits containing 1 5,000iu or 6,000iu, you can expect them all to last you anywhere from 3-4 weeks, depending on which dose ends up working for you best.
This really isn't something that you can decide beforehand. I do get emails all the time saying what dose should they take so their hCG lasts such and such number of days. You do not want to take hCG this way. Find the dose that allows you the least hunger, regardless of how long it will make the vial last. That should be your priority here.
Choosing hCG Dose Based on Hunger vs. Number of Days You Want It to Last
This really isn't something that you can decide beforehand. I do get emails all the time saying what dose should they take so their hCG lasts such and such number of days. You do not want to take hCG this way. Find the dose that allows you the least hunger, regardless of how long it will make the vial last. That should be your priority here.
Well, I hope this helps you decide what you want to do! As always, it was a mouthful. But I'm the kind of person who wants detail so I can make an informed decision, so that's why I provide it to you guys.
Want Motivation?
37,000+ hCGers Join
hcgChica's
Email Tribe
how-to's | interviews | pep talks
Yup, I want this!
Related posts: