Podcast: Play in new window | Download
Subscribe: Apple Podcasts | Android | RSS
Of course if you are this point than you will already have taken care of Phase 1 – loading.
Da-da-duh!
You are ready for the most exciting part- the part where you lose weight.
What is Phase 2?
The very low calorie diet (VLCD). This is the part of the diet that you eat 500 or so calories a day, usually for a period of 3-6 weeks, from a specific list of foods, portioned out a specific way as well.
Phase 2 is also often referred to as the VLCD or very low calorie diet/day. It's not fun. It's not a party. But it will accomplish a lot for you if you follow it closely. What do you do if you have more weight to lose than what you'll lose during 3-6 weeks? You take a break then do another round of 3-6 weeks.
Please see my posts on:
How Long Breaks Between HCG Rounds Should Be
  hCG Breaks Are Important – Why This A Journey and Not a Race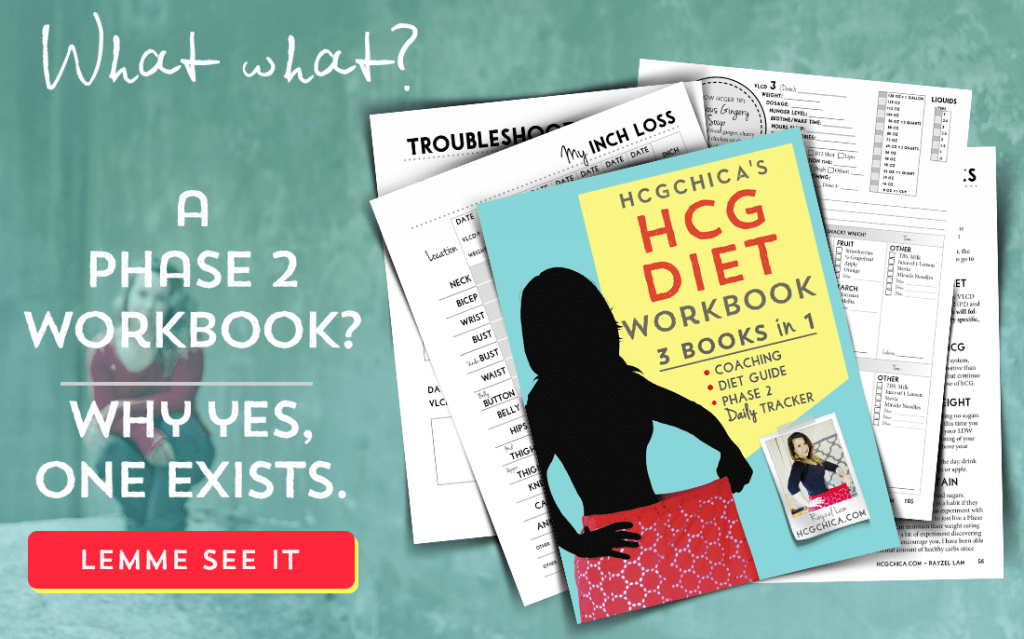 Phase 2 (P2) of the hCG Diet: 3-6 weeks
Basics on What To Do
1. Inject your chosen dose of hCG each morning
For most this is going to be125ius or 150ius, however it's highly individual and will change from round to round even for the same person, so please see more details on dosing here).  Other injections tutorials here – including how to mix, where and how to inject- everything!
Injections are done only once a day, usually in the morning. If you are taking drops, you will be taking them 3-4 times a day.
2. Do not exceed 500 calories each day.
Exact foods allowed and how to portion the calories below.
There is actually a caveat here. See my post (coming in the near future!) on when you may need to eat more – if you are thinner and don't have much to lose, or if you're a huge dude with a very labor intensive job. IF you do need more than 500 calories, I'm not talking about a lot more- we're talking 100-250 extra calories.
I know it sounds crazy, but the vast majority of people are not going to need more than 500, 600 calories tops. Out of all 5 rounds of hCG I did, I only needed to eat more than 500 calories on my final round as I was getting to a lower body fat percent (we're talking 17-18% as a woman) and even then, I only need 100-200 extra calories on some days.
3. Eat to hunger.
What this means is that some days you may you only need to eat as little as 300 calories even. You can omit any foods you are not hungry for, but I personally recommend always having the two 100g protein portions each day. If you're hungry for all 500- by all means eat them all! Please see my post on eating less than 500 calorie at times for more info. There may also be times you need to eat more than 500 calories – please see my post on this (coming in near future).
4. Weigh yourself daily once, in the morning, and keep track of it.
Only once you hear? You WILL weigh more later in the day – remember even 16 ounces of water you drink equals another pound inside you till you pee it out! Also, I am compiling an article about those who have decided to weigh only once a week or not at all and what situations you might choose to do this in- I'll link to it here when it's ready.
The following is Dr. Simeon's Original Protocol – there are some modifications that I and others have made that I will discuss in the near future.
How to Portion the Calories
Approved Food Choices List Below.

Breakfast:

Coffee or tea

Lunch:

1 protein (100 grams)
1 vegetable
1 fruit
1 grissini or melba toast

Dinner:

Same as above
Approved Foods List
Protein:
1 Serving size = 100 grams/3.5 ounces(2 servings a day total)
Beef – very lean – ideally 95% or more fat free  (80/20 will NOT do)
Chicken breast
Veal
White fish (examples: Catfish, Cod, Flounder, Halibut, Sole, Red Snapper, Sea Bass, Tilapia, Trout)C
Lobster
Crab
Shrimp
Occasional meat replacement allowed (1 serving):
1 egg + 3 egg whites
100 grams fat free cottage cheese
Vegetable:
Serving size: None is indicated in original protocol. You are allowed to eat to satisfaction.
Asparagus
Beet Greens
Cabbage
Celery
Chard
Chicory
Cucumber
Fennel
Lettuce
Onions
Radishes
Spinach
Tomatoes
Fruits:
Serving size as noted below.
1 Apple
1/2 Grapefruit
1 Orange
Strawberries – 1 handful
Carb:
1 Grissini Stick (without oil- check many have olive oil in them)
1 Melba Toast
Other:
1 lemon/day
1 tbs milk/day
Judicious use of sugar sweeteners
Spices and herbs (that do not contain starchy fillers etc).
Additional Phase 2 Instructions (with my side notes)
We've got a set of Do's, a set of Cans and a set of Cant's which are taken from Dr. Simeon's original protocol. Below each of them has my side notes, which may include reasons that I may have chosen to go differently than he suggested and the reason why.
4 Do's
Do #1: Drink 2 liters (about 2 quarts) of liquids a day.
Toxins are stored in fat, so drinking enough water while on hCG is wise as it will help your body flush out toxins that may get into your bloodstream as your body metabolizes your fat for fuel.
Do #2: Weigh the 100 Grams of Protein Raw.
If you need to weigh meat that's already been cooked, you will want to measure out less than 100 grams as raw meat contains a higher water content. A good rule of thumb would be to weigh cooked meat at 70-80 grams instead.
Do #3: Remove all visible fat from meat.
If you need to weigh meat that's already been cooked, you will want to measure out less than 100 grams as raw meat contains a higher water content. A good rule of thumb would be to weigh cooked meat at 70-80 grams instead.
Do #4: Skip 1 injection a week if doing the diet >3 weeks (continue the VLCD diet as normal).
It doesn't hurt to do this, so you may as well. This was insituted by Dr. Simeons as a way to prevent immunity that he said occurred in some patients. I haven't actually seen this happen in practice for some reason. You don't have to panic if you didn't skip a shot for a few weeks. Just do it as a precaution when you remember.
Do #5: Skip hCG but continue the diet during menstruation.
I chose to skip hCG on my heaviest flow days only – for me this was 1-2 days. From my observation it is a good idea to do this because otherwise sometimes hCG can cause issues with menstruation, either preventing it entirely or causing it to last longer than normal, while on hCG.
5 Cans
Can #1: You can break up the 2 meals as much as you like.
What this means is that you can making multiple snacks out of a meal. Examples:  Take the lunch fruit serving and have it for breakfast. Or take 50 grams of the lunch protein and have it for breakfast. Saving a dinner fruit for late night snack. Etc.
Can #2: You can eliminate anything you are not hungry for.
This means there may be times you are actually eating less than 500 calories. This is okay IF you are truly not hungry. Hunger is largerly hCG dose dependent. If you are experiencing excess hunger on hCG, you likely need an adjusted dose.
I personally recommend always having the protein servings. I am a big believer in protein – recently I was not getting enough and was not experiencing muscle growth at crossfit- when I increased it bam, had a huge increase in my muscle mass (tested through hydrostatic body fat testing) – so I still feel it's wise to make sure to eat at least this.
Can #3: Sugar free items can be tentatively used.
Tentatively means hesitantly or experimentally. Many find Stevia to be fine, some use Splenda. But in some cases if you are on the leaner side you may be more affected by sugar free sweeteners, or if you are using too much of them. Sugar alcohols may be okay but use them very sparingly as too much does indeed affect blood sugar which will affect weight loss on hCG.
Can #4: If weight loss stalls for a few days in a row, an Apple Day can be done.
Apple days involve eating up to 6 Apples, minimizing water intake, and eating nothing else. Apple days begin at noon one day and end at noon the following day. Keep in mind Dr. Simeons mentioned the main 2 tactics of doing such a day were to help you emotionally while dealing with the stall, and to get rid of excess water retention. Doing an apple day involves eating a lot more carbs than usual and no protein, so just keep that in mind when deciding to do one or not.
I have 2 in depth posts on apple days here:
What Apple Days Are and When to Do Them
Are Apple Days Good For Stalls and After Cheats? Possibly not…..
Can #5: TREATMENT INTERRUPTIONS: Taking a short break from hCG DURING Phase 2.
If something comes up and you need to be off hCG and the diet for 2 weeks or less, you can do an interruption. Technically only to be done after you've already used 23 injections worth otherwise weight regain during the break is more likely. This involves getting off hCG as if you were finishing Phase 2, with the same 72 hour transition period (see page for instructions).  Eat Phase 3 style to hunger (calories may end up being somewhere between 800-1600). When ready to resume hCG no re-loading is necessary, simply start hCG and the very low calorie diet again to finish out your round.
4 Cant's
Can't #1: Do not mix vegetables at a meal.
Dr. Simeons did not explain why vegetables were not to be mixed – my theory on this is that you easily end up consuming more calories doing this because it's tastier. I did mix vegetables at times and felt it was okay for me. If you DO choose to mix some P2 vegetables together, be more conscious of how much of it you are eating.
I have a very detailed post on this subject here:
Can you mix vegetables on the hCG Diet?
Can't #2: Do not combine multiple servings into one meal.
Examples: No eating of both fruit servings at once, or the two protein servings for the day at once.
Can't #3: Avoid any contact with oils on the skin.
The hCG hormone makes your body more sensitive to fats than usual – both to losing it and gaining it. Our skin is our largest organ. Let me repeat that. Our skin is our largest organ. I am inclined to believe Dr. Simeons that fats and oils on our skin will cause problems during the diet. Wear gloves when cooking with fat.
Can't #4: Do not use makeup or skincare products containing oils unless it's mineral oil.
Same argument as above. I have a free ebook download called "Mac to Maybelline – Makeup and Skincare Products Safe to Use on the hCG Diet" that was researched by a skincare specialist and a fellow hCGer who checked ingredients for oils in common brands. It was a labor of love on her part that took many many hours and I'm honored she offered me to make it available here for you guys.
Here are some of the foods that other hCG-ers ate while on P2:
Watch Amy's Full Interview here
Watch Casey's Full Interview here
Watch Diane's Full Interview here
Watch Elke's Full Interview here
Watch Kerrie's Full Interview here
Watch Kimberly's Full Interview here
Watch Lisa's Full Interview here
Watch Lynette's Full Interview here
Watch Michelle's Full Interview here
Watch Patti's Full Interview here
Watch Stefanie's Full Interview here
Watch Tamara's Full Interview here
Watch Tracy's Full Interview here
Want Support? Motivation?
29,000+ hCGers Join
hcgChica's
Email Tribe
Yup, I want this!
Related posts: