It was time for an updated video on this topic – the prior one is from like 2012 and my camera gear has come along way since then! 😉
IMPORTANT:
This tutorial covers how to find the various doses of hCG on a syringe IF (and only if):
You mixed your hCG in a 1:1 ratio: that means a 5,000iu vial of hCG with 5 ml's of your mixing liquid
(for a tutorial on how to find hCG dosage on a syringe for 2:1 mixing ratio – ie. 10 ml's mixing liquid with 5,000 iu hCG see here).
Finding the Right HCG Injection Dose.
When you are new to the hCG diet, and HCG Injections, it can be pretty overwhelming. Phrases like "syringe" "iu's" and "bac water" can really throw us off and make the HCG diet feel intimidating. But it doesn't have to be that way. I guarantee if you take the time to continue to research and read up on the diet, things will start to click. To help you in that way, I thought I'd demonstrate how I go about getting the correction hCG injection dose.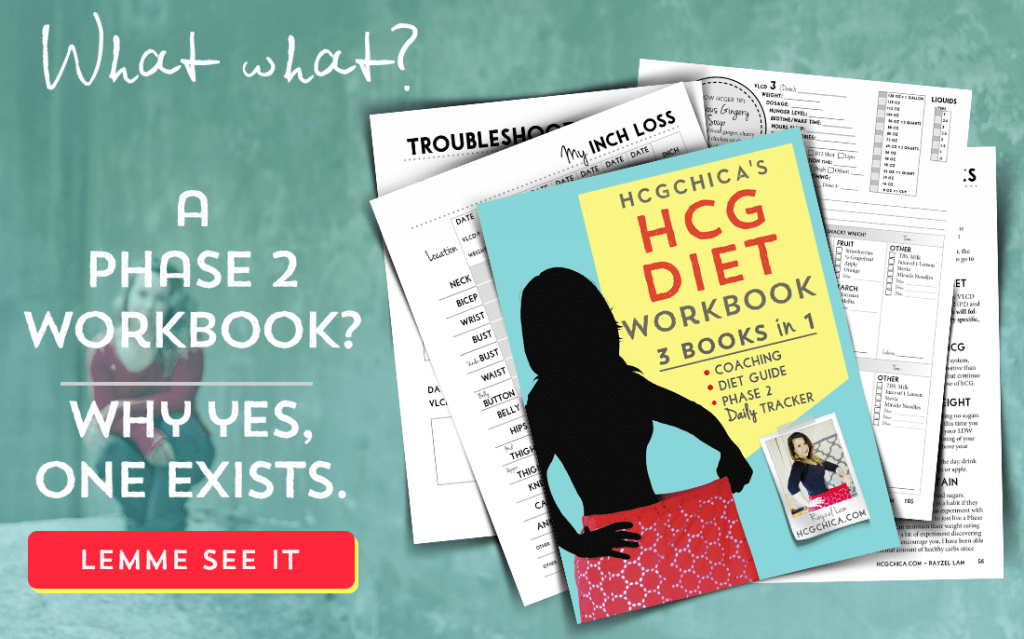 If you are here, you are most likely interested in learning other stuff like how to inject and such so you can you find all my hCG injection tutorials here, including a live demo where I stick myself with a needle for your benefit even though I'm no longer on the diet just to show you how not a big deal it is. How's that for love?? 😉
And if you are still in the research phase for purchasing hCG, you can compare my current recommendations for RX pharmaceutical hCG that can indeed be purchased online (and comes in powder form, as it MUST if you are using the real hormone) here:
On to the lesson folks!
Lesson 1: What the numbers on the Syringe mean
The "syringe" part of the injection is the barrel that will contain whatever you're going to inject and it has little numbers and hash marks to indicate how much it holds. The numbers on the syringe are referred to use "units" and 100 units = 1cc or 1 ml. The most common syringe sizes I see come with the hormone diet kits are 30 unit syringes(.3 cc/ml), 50 units syringes (.5cc/ml) and 100 unit syringes (or 1cc/ml).
Regardless of whether you have a 30 unit syringe or a 50 unit syringe or a 100 unit syringe, the numbers I'm throwing out here still apply, as long as your syringe says that your syringe is a fraction of 1 ml/cc total.
That means:
a 50 unit syringe should say it's a .5 (or 1/2) of a cc/ml
a 30 unit syringe should say it's a .3 (or 1/3) of a cc/ml
Even though the barrel of the 30 unit syringe looks smaller/thinner than say the 50 unit or 100 unit syringe, or has different hashmarks, it doesn't matter, just remember if your syringe says one of the above, you can use this tutorial.
(If you mixed your hCG differently than what I just stated – you can find a tutorial on how to find your dose of hCG when you mixed 10 ml of bacteriostatic water with 5,000iu hCG here).
In a nutshell, this is where the various doses are:
90 iu = 9 units
100iu = 10 units
125iu= 12.5 units (as close as you can get to it- there will likely be a hashmark for 12 and 13 units- just do your best).
150iu = 15 units
175iu = 17.5 units
200 iu = 20 units
225 iu = 22.5 units
250 iu = 25 units
275 iu = 27.5 units
300 iu = 30 units
350 iu = 35 units
I bolded the most commonly used dosages on the hCG diet. You can also get detailed help on knowing what is the best hCG dosage for you.
Lastly, I've got quite a smorgasbord of other hCG injection tutorials for ya as well.
Want Motivation?
37,000+ hCGers Join
hcgChica's
Email Tribe
how-to's | interviews | pep talks
Yup, I want this!
Related posts: