Sometimes people choose to use a little more mixing liquid when they mix their hCG for injections, and go with a 2:1 mixing ratio-
That Means:
You mixed 10 ml's of mixing liquid with 5,000iu hCG.
If you are here, you are most likely interested in learning other stuff like how to inject and such so you can you find all my hCG injection tutorials here, including a live demo where I stick myself with a needle for your benefit even though I'm no longer on the diet just to show you how not a big deal it is. How's that for love?? 😉
And if you are still in the research phase for purchasing hCG, you can compare my current recommendations for RX pharmaceutical hCG that can indeed be purchased online (and comes in powder form, as it MUST if you are using the real hormone) here:
On With the Lesson!
So. Mixing your hCG 2:1 – 10 ml's of bacteriostatic water with a 5,000 iu vial of hCG.
Some choose to mix in this way because they feel the hCG is dispersed in their body better. I always mixed in a 1:1 ratio (5 ml of bac water with 5,000iu hCG – tutorial on mixing 1:1 here, and hCG dosing for 1:1 mixing here.) for all 5 of my hCG rounds, and I felt like it worked great. 1:1 mixing is currently the standard way most people do it.
But it's nice to have options right?
Keep in mind though, if you choose to use the 2:1 mixing ratio with 10 ml's of mixing liquid, make sure you check the size of your syringes FIRST because if you find yourself needing a dose any higher than 150 iu of hCG, you will need to have at least a 50 unit syringe (many of the online U.S. hCG injection companies and weight loss clinics now send 30 unit syringes).
You can buy larger hCG injection syringes ala carte for this purpose if you found it necessary from missourimedicalsupplies.com – the ones I just linked to are 1 cc/ml syringes, so you should be able to get any hCG dosage you like with those when mixing in the 2:1 ratio.
This tutorial shows you how to find the various hCG dosages for the diet if you have mixed in this ratio.
25 units = 125 iu
30 units = 150 iu
35 units = 175 iu
40 units = 200 iu
45 units = 225 iu
50 units = 250 iu
If you need help knowing what hCG dose to take, you can find my tutorial on choosing and adjusting hCG Dosage here.
Additionally, I have quite a smorgasbord of other hCG injection tutorials to help you guys out as well!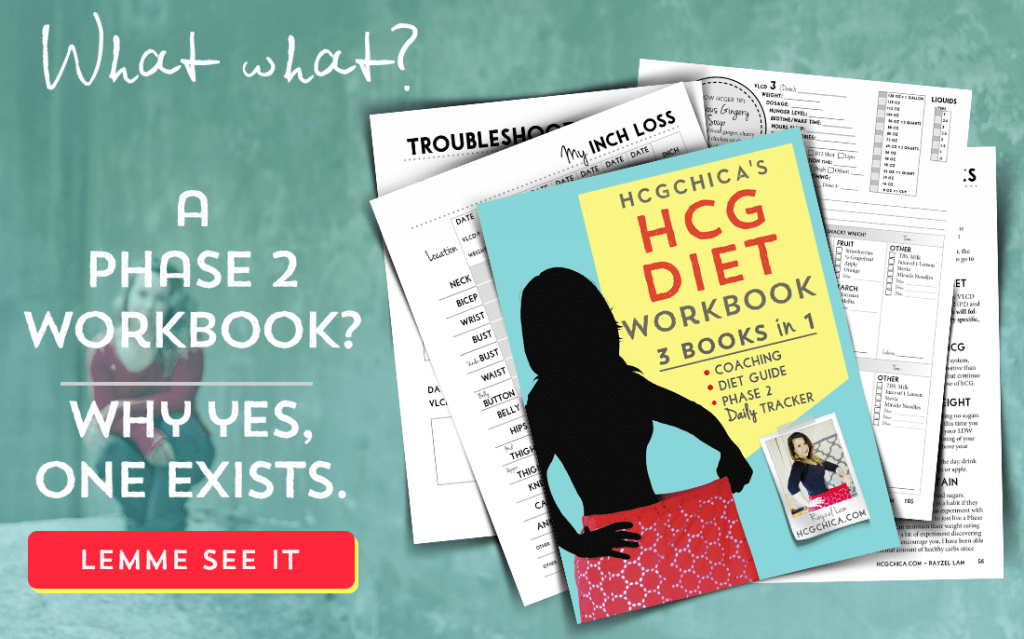 Want Motivation?
37,000+ hCGers Join
hcgChica's
Email Tribe
how-to's | interviews | pep talks
Yup, I want this!
Related posts: