Learn First, Buy Later.  Seriously.
I'm passionate about this protocol and using quality hCG – the real hormone – because I myself lost 50 lbs this way – my personal weight loss story here.  Check out my little hCG Diet Journal here – you can see just where I started on video! But what matters even more is that the weight is GONE FOR GOOD.  It's been almost 6 years now since my final round on this protocol, as of September 2018.  I think it's safe to say the changes I've made in my life are permanent.
This is for you if…
you already know you are definitely going to be buying hCG, but have been confused about what to look for when deciding where and what to buy.  Once you've gone through this, you can check out hCG purchasing options here.
SO!
You might have an anxious sensation inside making you feel like you need to purchase hCG right this instant or you'll never get thin-
take a step back, read this, THEN make a decision- an informed one.
Seriously- you can wait an extra 5 minutes to start your weight loss journey right?  Believe me, it will be well worth it.
The reason I felt this article might be helpful to you guys is I get a lot of people having trouble on this protocol and I find out they are taking drops from walmart.  The thing is, the real hCG hormone is a prescription product, so whatever is being sold at walmart or the GNC health store, is not actually hCG.
The only way to get real, pharmaceutical hCG is either
1. through a weight loss clinic near you, or
2. certain online companies that have set themselves up to be able to legally offer telehealth services (which are few). This is the route that most people purchasing real hCG injections or drops these days go.
Because there is so much confusion and misinformation out there, a lot of people think they are doing the true hCG diet, but in reality, they are missing the most important aspect of it, which is the actual hCG hormone itself.  As a result, I think this is one reason that many do this diet but not very many are maintaining the weight loss.
And that's what my blog is all about helping you to do.  Weight loss is really pretty pointless unless there is a way to maintain it and move on with your life.
I 100% believe that this hormone is a not a placebo effect and that it truly does:
1. spare muscle,
2. take away hunger, and
3. allow for very fast and efficient fat loss, not just water weight.
Missing out on the actual hormone, while eating only 500 calories a day for several weeks, I feel may be the cause of many having trouble on this protocol either during, or after they finish the diet.
I have maintained my own weight loss from hCG that you see here for over 5 years! I feel the following is really important if you want to do the same.
Answers to these topics:
You can now see a growing library of videos of me AT a pharmacy, with a real live pharmacist explaining the process of making hCG ready for injections.

Real HCG should come in Unmixed POWDER FORM
Why is this?
Because once you mix up the hCG into a liquid solution, the potency of that hCG is now effectively on a potency countdown– how viable it is- that is- how "capable of working" it is, is now limited by time- in the case of hCG, it's usually of good quality for 3-4 weeks once you have mixed it.
It CAN last longer than this from what I've read round and about, but I wouldn't personally count on this- it may or may not degrade fast enough past the 3-4 week mark to start causing you problems- ie hunger, bad weight loss etc- since it's hard to be positive, I find it best to just only use it for the length of time that I can be SURE it will last for.  Too often I see people decide to just live with all of a sudden feeling starving on hCG meaning their hCG has most likely gone bad as if it won't make a difference but if that's the case, why not just take a placebo?  Why did you spend a couple hundred bucks in the first place?  This stuff really does work so make sure you're actually using live hCG.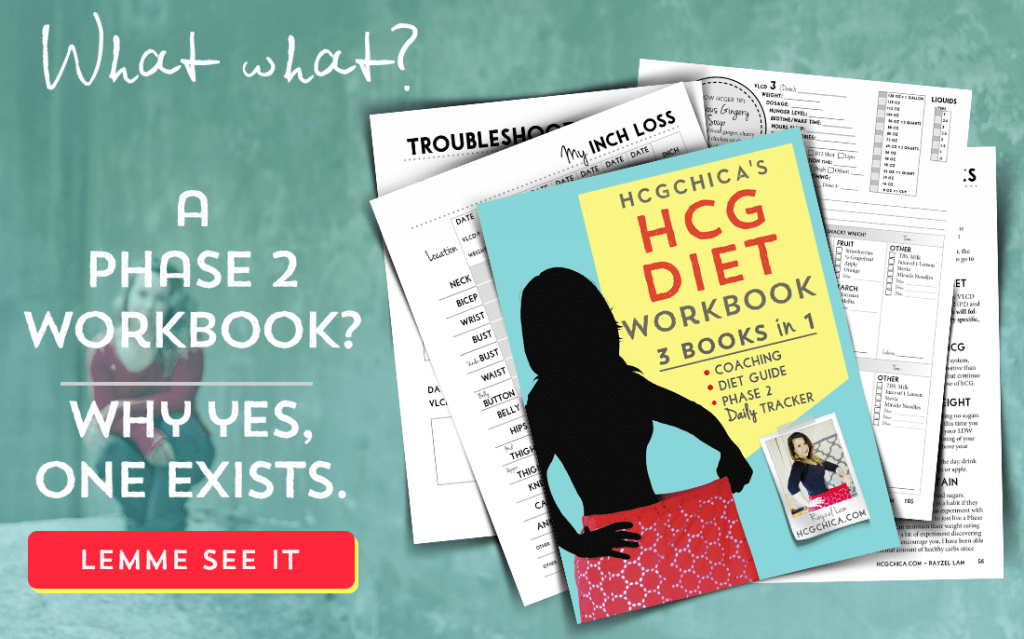 Workbook? Yes lemme check it out
As such, the sources that I recommend on my buy hcg page ONLY offer hCG in powder form- this is in contrast to many many sites out there selling liquid hCG, bottles with no hCG but supposed "hcg activators" etc. You can also get hCG in Pellet/Tablet form from these sources- I have a complete guide to hCG Pellets here.
The vial you get will look something similar to this (this particular one is from NuImage Medical):
This is a big deal.
If you are going to use hCG that is supposed to be real, but has been premixed and not refrigerated during shipping (see next point), I guess I feel like you really might as well save your money and do some other diet.  Do some other diet because this diet is not meant to be done without hCG.  Far too often we as women care more about just getting that scale to move down than about what we're actually losing- you want to lose fat not muscle– there are ever so many reasons why this is so important- some of which I discuss here and my take on non-hormone hCG.
Note: the powder may come pressed into a "tablet" that will disintegrate as you mix it- this is fine.

Once mixed, KEEP IN FRIDGE AT ALL TIMES.
Again, once hCG is mixed, it becomes like a very sensitive woman that you need to treat carefully- if you leave mixed hCG out of the fridge for even several hours it can quickly totally degrade, after which it won't do what it needs to do in your body- mainly, take away hunger and allow that proper amount of fat loss vs. losing more muscle etc.  One of my hCG Interviewees from Episode 7 has a story to tell about this.
How Do I Actually GET the hCG When I Don't Have a Prescription?
When you purchase through either of the three U.S. companies mentioned below, you get BOTH your prescription and hCG together through that company– it's called telehealth- they each have a real bonafide Doctor as part of the medical staff- you are required to fill out a medical intake form (it's not long) and they will approve it if you qualify (if you're overweight, there's not much worry there) and call if you if they have additional questions, after which point, a U.S. compounding pharmacy they have partnered with will mail your hCG package whether it's injections, rx drops, or rx pellets. It will contain everything you need for the diet (except food). HCG, mixing solution, mixing syringes, and daily dosage syringes (if doing injections) – it all comes in the price of the kit.
All this can happen quite quickly and you can have your hCG within a few days when it's timed right.
Simplest/Highest Quality: Buying HCG From/Made in the United States
There are three online US sources that I currently recommend: Nu Image Medical, River Front MD, and DietDoc.
Advantages to U.S. Made hCG:
3 simple choices, you select one, and you receive a whole "kit" that contains pretty much everything you need – the hCG and all mixing/dosing supplies – they do this so that it's easy and you don't have to start doing math…….
US Made hCG is REGULATED.  What does this mean?  It means the facilities that the prescription hCG is made in, compounding pharmacies, have strict rules they have to live up to that are enforced by state officials.  This means a lower risk of there being anything we need to question- we don't have to wonder if there are any issues with it being made in a sterile environment or if it could be contaminated in some way.  A huge comfort when you're injecting something into your body.
Shipping is fast.  You can get your order pretty quickly since it's coming from within the states- usually within a few business days.  Note, occasionally, there are delays like in January when everyone is starting a diet and there is a flood of orders, but most of the time, you can get your order in a pretty timely fashion.
You can see all the benefits I've mentioned here.

Cheapest: Buying HCG From/Made Overseas
The advantage to getting your hCG from overseas is: the cost.
It's simply cheaper to purchase hCG made overseas.  Does it work?  Well, it did for me – I used hCG from overseas for the majority of my 50 lb weight loss, as this was several years ago when these U.S. companies online weren't as much as on the scene.  I feel it produced the effect it should have- good hunger management and good fat loss.
If I needed to lose weight again?  I probably would spring for the US made hCG, which is what I did for my final round of the diet.
Why Would I Use U.S. Made hCG If I Could Repeat?
Honestly, it took me awhile to come around to this conclusion. For a long time I was continuing to say that I felt like overseas hCG was equal in quality and had no problem encouraging it's use. That changed for me after I visited a couple pharmacies in person and had the pharmacist explain why it's so imperative for injectable goods to be sterile and no bacteria from poor practices is a problem. This is because when you inject something in your body, you are bypassing most of your body's defense mechanisms. So you could get very very sick if you inject something contaminated with bacteria.
Am I making a bigger deal than this than I need to? Maybe. After all, I did 4 rounds with overseas hCG and didn't get sick. So have many others. But I'm at the point now after learning the details where I feel like, yeah, I didn't get sick….luckily.  It's worth an extra hundred bucks for what's at stake in my opinion now.
Basically, there are regulations here in the U.S. that compounding pharmacies have to follow– so you can be more confident you are getting a quality product that has not been contaminated in anyway.  When you buy from overseas however, there are no such regulations.  There's just no way to be SURE that the product we're getting overseas is clear in every way.  That doesn't mean I wouldn't use it, but I guess you could say there is a higher risk involved than using hCG made in the U.S., so now that there is a more reliable option, I'd go with that.
An example of how regulations can play a role is with Olive Oil- it appears that a larger percentage of olive oils that are imported from other countries are adulterated with other cheaper oils, etc- basically many imported brands are selling you "olive oil" that is actually at least half something else- why can they do this?  Because these imported products don't have required regulations on them.    In fact, for my 5th round I used US HCG Injections prescription hCG and had some of the least hunger I've ever experienced- some days I felt so not hungry I felt like I didn't need to eat at all!  Please note, this non-hunger feeling is very DOSE DEPENDENT though.  You can read all about finding the best dose for you in my hCG dosage article.
All that said, I DID lose the majority of my weight with this hCG from overseas.  That's all I really had access to at the time, and I'd do it again if I had to.  That's why I continue to recommend them alongside the others on my blog- it works, and for some, this price-point difference may mean the difference between doing the hCG protocol or not.
Shipping.  It takes longer.  You can sometimes pay for expedited shipping but this can still take 10 business days.  Regular shipping takes on average around 3 weeks.
It doesn't all come together in one kit– they do sell everything you need to get started, you just need to know what to select, which I cover farther down in this article.

How Long to Do the hCG Diet / How Much to Buy
It can be confusing deciding how much hCG to buy, which is based on how long you choose to do a "round" of hCG for.
The hCG diet is different in that it's not meant to be done continually until you've lost all your excess weight.  hCG is meant to be used in multiple rounds where you take breaks between them. The amount of time a round lasts for can vary depending on which site you visit, but to keep it simple, you can basically choose between doing the diet for around 3 weeks, or around 6 weeks- a short or long round option.
THIS IS A GOOD THING.  Believe me, this is unlike any other diet you've ever done and you will be begging for your break towards the end.
Short rounds of about 3 weeks are best for women who have 15lbs or less to lose (men perhaps 20lbs or less to lose), and the longer 6 weeks-ish rounds (Diet Doc sells them as "double 30 day kits= 60 day round" and NuImage medical sells them as 46 day kits) are best for women needing to lose more than 15 lbs (for men, more than 20lbs).
28 days, 56 days, 43 days what??  Am I starting to lose you a 'lil bit?  That's okay- that's why I'm here.
Deciding What U.S. HCG Kit to Buy
What you need to know about this is the amount of hCG you are getting from all three of these U.S. companies is EXACTLY the same. 
Ie. if you buy:
the double 30 day kit from Diet Doc (for a total of 60 days) or
the 46 day kit from Nuimage, or
the 50 day kit from River Front MD,
you'll be getting the exact same amount of hCG in actuality- 2 vials of powdered hCG.
So basically what you need to know is that each company has a "shorter" length kit and a "longer" length kit – and all their shorter length kits all contain the same amount of hCG, and same with all their longer length kits. So don't let the # of days you see one kit offering if it's 4 days longer than another, be your deciding "buy" factor- because you're not actually getting more hCG.
Here is a sample of what these kits tend to look like: